Vito would like to show off his Gotcha Day Present, a brand new football! He never managed to kill his last one, but he did manage to get it so dirty it cannot be cleaned, so mommy got him a shiny new blue one to dirty up!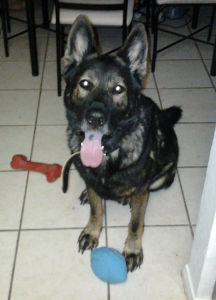 The URI to TrackBack this entry is: https://lizziescouch.tripawds.com/2011/11/08/vitos-gotcha-day-present/trackback/
on November 9, 2011 at 12:15 AMetgayle Said:

vito – blue is definitely your color!!! get 'er done!!!

charon & gayle

on November 9, 2011 at 2:23 AMAbbysMom Said:

Go long, Vito!

on November 9, 2011 at 3:24 AMsamson007 Said:

Did someone say BALL!!!??? Way to go Vito!